Cisco's Story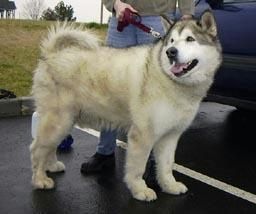 Cisco when he first arrived
Cisco came into rescue in March of 2002. He came with a rat's tail and a large hot spot on his back. The skin was black where the hot spot was located. The previous owner stated that the hot spot had been treated with ointment and the previous vet had diagnosed it as a result of fleas. Cisco had this spot for years. Cisco appeared to be overweight and had hardly any energy. Taking him for a walk around the block was more than he could handle and he was always glad to get back home so he could lay down again. His coat appeared to be only undercoat, almost all white.
I took Cisco to my vet and asked for a full health examination. The vet suspected a thyroid problem on this first visit and did the blood work, which was sent out to a lab. Cisco weighed in at 136 pounds on this first visit. The vet called a few days later and informed me that Cisco's thyroid test came back showing that his thyroid had no function what so ever. He was put on thyroid medicine, twice daily and we started watching him closely.
Within the first month we noticed a difference in his activity level. Instead of me dragging him around the block, he started dragging me around the block and wanted more. In the first six months his hot spot was gone. Cisco has been on the medicine for two years now. Cisco's coat has improved some, no more hot spots on his back. The rat's tail has not grown back and is still pretty bald. His outer coat has returned with colors in it. His energy level is high.
In the two years that Cisco has been with me, we have had issues with the thyroid, a growth on his rear leg that had to be removed and last spring Cisco started displaying signs of hip dysplasia. The growth was very hard, about the size of a golf ball and had a hard matter in the middle that the vet could not recognize. Cisco has not had another growth since it was removed early in 2003. During the late spring of 2003, Cisco one day just could not get up. The vet did x-rays and diagnosed Cisco with a mild case of hip dysplasia. Since then Cisco has been on rimadyl, 1/2 of a 500 ml, twice daily. He currently weighs 140 pounds and is on a diet to try and help him lose weight. Even on the diet he has not lost any weight. It stays around 135-140 pounds.
Contact Details
Fionna Paton
Gold Coast, QLD, Australia
Phone : 0419 561 009
Email :
[email protected]