An Introduction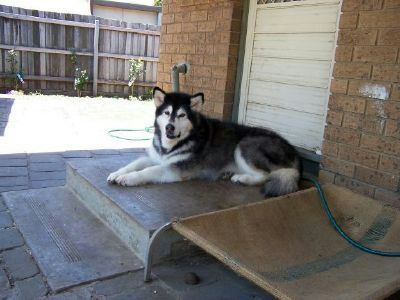 Photo - Niki taken 3rd January 2004
My name is Fionna Paton and I live in the Gold Coast Hinterland in South East Queensland, Australia, with my gorgeous Alaskan Malamutes. Deena, Aust Ch / Neuter Ch Atupaka Varu Dream Girl and Jagger, Multi BIS / Multi RUBIS Sup Ch Darksky Real Wild Moves. I have been involved with Alaskan Malamutes since 1992.
My interest in thyroid problems began when one of my original Alaskan Malamutes, Niki was diagnosed as hypothyroid in February 2001. She had been suffering with thyroid related illnesses for about one year prior to that. Niki's main symptoms in no particular order were, weight gain, lethargy, numerous infections involving the bladder, ears and skin, excessive shedding of coat, fatty deposits on the cornea of the eyes.
It took me over one year to find out what was wrong with Niki and thanks to the wonderful world of technology, I was able to find a diagnosis on the internet. I then requested that my vet check her Free T4 levels and the rest, as they say, was history. It was a long road and we struggled with getting the Thyroxine dosage correct. Eventually I was able to get some sort of control of this terrible disease. There is a link to Niki's full story under Case Studies. I am hoping to be able to encourage you all to submit your stories. One thing I discovered when searching for answers for Niki, was the lack of case studies relating to hypothyroidism. There were no websites that I could find, that had all the information that you needed in one place. For that reason, I will constantly be updating my links page to ensure that the most informative sites are included.
In December 2003 I decided to start a thyroid register to collect thyroid results of Alaskan Malamutes. The aim of this register is to determine just how prevalent thyroid problems are in this breed and also to determine if possible, what is normal for a malamute. I have discovered that there are quite a few young malamutes that are below the "normal" laboratory reference range without exhibiting any symptoms. What I would like to know is whether these young dogs ever develop the disease or if they just stay low throughout their life without any symptoms. The only way to find out is to monitor these dogs for the rest of their lives.
If you would like more information about the register, I will be more than happy to answer any email enquiries. Otherwise, just submit your thyroid results and case studies via email and I will include the case studies on the website. If we all participate, we will all benefit from this. I am extremely proud and excited about this site and I hope that I will be able to make a difference to the Alaskan Malamute breed. It is my way of giving something back for all the years of joy I have experienced by being "owned" by this beautiful, noble breed.
Contact Details
Fionna Paton
Gold Coast, QLD, Australia
Phone : 0419 561 009
Email :
[email protected]